Healthy aging is our focus for SUKO Nordic organic health products.
AP-4® is a registered Trademark for SUKO Nordic rosehip products manufactured from a selected variety of the dog rose Rosa canina AP-4. AP-4 rosehip is a single variety cultivated in organic certified plantations in the south of Chile.
Optimal climate conditions and controlled cultivation methods are key factors for manufacturing a top-quality and standardized AP-4 Rosehip Powder, SUKOFLEX®.
To meet the increasing demands for AP-4® Rosehip Powder, the plantation cultivations have been extended with AP-4 plants nursed in green-house, latest in 2020 and 2021.
AP-4 rosehips are harvested at an optimal ripening time when the content of polyphenols are at the highest level.
SUKO Nordic develops organic health supplements based on rosehip and maqui.
SUKO Nordic at Vitafoods Europe
May 08-11, 2023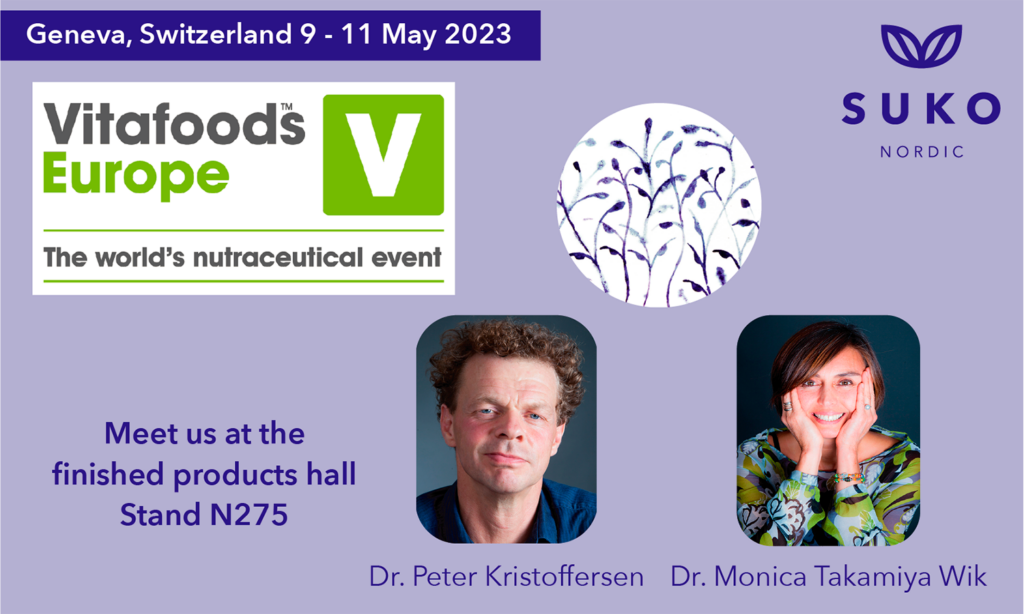 We are at Vitafoods Europe 2023 presenting high quality organic food supplements for Healthy Aging.
We are particularly motivated to share our latest innovations in the field of second-generation synbiotics including current clinical testing.
SUKO Nordic develops solutions for Healthy Living and Healthy Aging. All natural and certified organic.
We are looking forward to connecting with partners, distributors and interest groups who share our passion for Healthy Living and Healthy Aging related to diet and food supplements.
Our interest and focus are reflected by the fact that the world´s population is getting older. We strive to deliver solutions that can bring a higher quality of life and not at least a healthy aging.
Feel welcome to visit our stand N275 to hear about our company and research.
SUKO Nordic was founded by two molecular biologists, Monica Takamiya Wik and Peter Kristoffersen with the purpose of bringing a range of high-quality organic health products to the European and Asian markets. SUKO is acronym for SUnd KOst (Danish) = healthy diet.
E-mail: info@sukonordic.dk
Cell: +45 2254 5807